Center Vision
American ingenuity and entrepreneurialism have transformed American energy. When our Nation thrived under America First leadership, the United States achieved a generational strategic goal and moved from a position of chronic energy dependency to true energy independence—providing abundant and affordable energy to American homes and communities and opening new vistas of American dreams and opportunities. Our American energy sector achieved something else as well: in attaining new heights of innovation and development, the United States led the world in generating opportunity, security, and environmental progress. The America First Policy Institute (AFPI) will advance policies to safeguard the freedoms and opportunities presented by our energy potential and rebuild our Nation's energy independence while advancing clean air and clean water and helping make the greatest economy in the world work for all Americans.
POLICY PRIORITIES
U.S. energy independence
A secure and resilient U.S. energy sector
A predictable and efficient permitting process
A level playing field for all sources of energy to compete
Increased energy exports and international energy dominance
Realistic, fact-based, and economically viable solutions for complex environmental problems
Energy policies that help America's most vulnerable and end energy poverty—ensuring that every American has access to affordable, reliable energy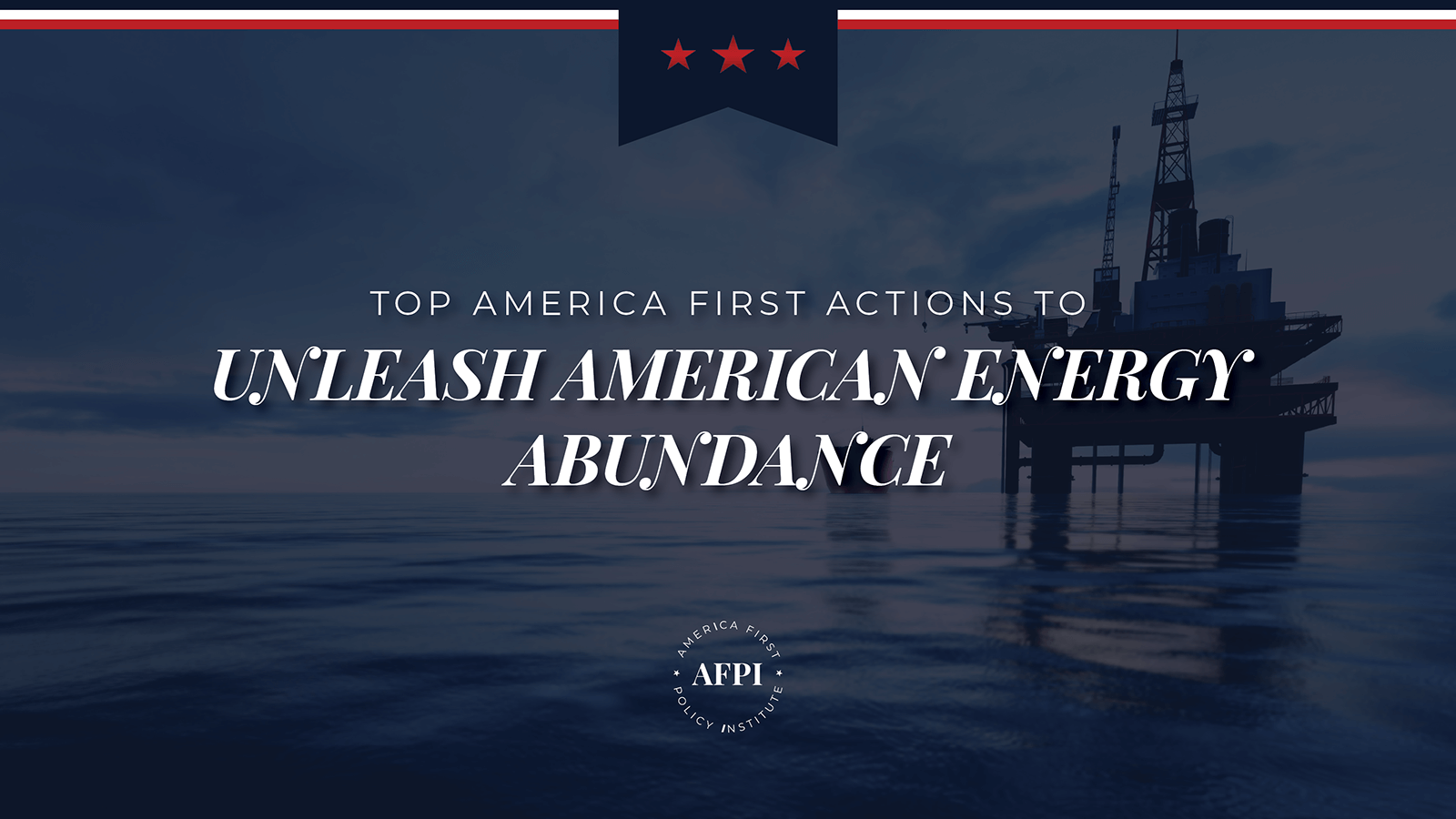 Beatrice Brooke
Senior Policy Analyst, Center for American Prosperity and Center for Energy & Environment
Beatrice Brooke was born in Atlanta, Georgia, and serves as the Senior Policy Analyst in the Center for American Prosperity and the Center for Energy & Environment for AFPI. Brooke recently finished her service at the United States Department of Commerce, where she served as a Senior Advisor to the Deputy Secretary on policy matters including international trade, economic development, weather operations, and commercial space enterprises. In this role, she supported the Deputy Secretary, who served as the Department's Chief Operating Officer of a budget of more than $15.2 billion, 12 operating units, and over 47,000 employees. She is a graduate of Northwestern University, where she majored in Political Science and International Studies and also studied Spanish and Italian. Brooke grew up in Washington, D.C., and she enjoys reading about history, traveling, and studying languages—and has recently begun learning Korean.
"The price of liberty is eternal vigilance."
Thomas Jefferson
Samuel Buchan
Visiting Fellow, Center for Energy & Environment
Samuel Buchan is from Akron, Ohio, and serves as a Visiting Fellow for the Center for Energy & Environment at AFPI. Buchan recently served as the Director for International Economic Policy on the National Economic Council, where he contributed to the Trump Administration's energy and environmental policy and developed the administration's strategy for European energy security. Previously, Buchan served as the Senior Advisor to Secretary of Energy Rick Perry, where he oversaw the Department's international efforts and established the Partnership for Transatlantic Energy and Climate Cooperation. Buchan has written numerous articles on the geopolitics of energy and domestic energy policy for leading sector publications, including Newsweek, The National Interest, RealClearEnergy, and The Hill. Buchan earned his Bachelor of Arts from the University of Akron and is pursuing his Master of International Policy at Texas A&M University. Buchan enjoys woodworking, sailing, and monitoring black market energy trade.
Oliver McPherson-Smith, Ph.D
Director, Center for Energy & Environment
Oliver McPherson-Smith, Ph.D is from Sydney, Australia, and serves as a Director for the Center for Energy & Environment at AFPI. Dr. McPherson-Smith earned a PhD in political science from the University of Oxford, a master's degree in Middle Eastern studies from Harvard University, and a bachelor's degree in land economy from the University of Cambridge. His research has been published in several leading academic journals, and he maintains a fluency in Russian, French, and Spanish. Before his research career, Dr. McPherson-Smith worked as a television correspondent in Africa and Europe. He enjoys surfing, skiing, and debating tax policy with his husband. He is a proud naturalized citizen.
"He who keeps company with the wise becomes wise."
Proverbs 13:20
The Honorable Rick Perry
Chair, Center for Energy & Environment
Rick Perry was born in Haskell, Texas, and raised in Paint Creek, Texas. The son of dryland cotton farmers, he currently serves as the Chair of the Center for Energy & Environment at AFPI. Perry previously served as the 14th Secretary of Energy under President Donald Trump, where he advanced America's dominance in energy production to help American businesses, workers, families, and farmers. Previously, Perry served as the 47th Governor of Texas. As Governor of the Lone Star State, Perry championed conservative principles that helped Texas become America's economic engine. Perry also served Texas as Lt. Governor, Agriculture Commissioner, and State Representative. Perry is a veteran of the United States Air Force, having flown C-130 tactical airlift aircraft in Europe and the Middle East and remains passionate about supporting the active duty and veteran community. Perry earned distinction early in his life as an Eagle Scout and he was one of the first in his family to go to college, earning a degree in Animal Science from Texas A&M University, where he was a member of the Corps of Cadets and a Yell Leader. Perry married his childhood sweetheart, Anita, in 1982. They have two children, two beautiful granddaughters, and a grandson, who was born on the 4th of July.
Ambassador Carla Sands
Vice Chair, Center for Energy & Environment
Ambassador Carla Sands is from Camp Hill, Pennsylvania, and serves as the Vice Chair of the Center for Energy and Environment at AFPI. Previously, she was appointed to President Donald J. Trump's Economic Advisory Council, and in 2017, President Trump called on Sands to represent the United States as the Ambassador to Denmark, Greenland, and the Faroe Islands. During her tenure, Denmark increased its defense spending, while U.S. exports to the Kingdom of Denmark rose more than 43%, creating additional jobs right here at home. As Ambassador, Sands proposed and helped establish the U.S. Consulate in Nuuk, Greenland, and assisted with resolving the Thule Base Maintenance Contract dispute. She facilitated partnership agreements between the U.S. and the people of Greenland and the people of the Faroe Islands and expanded the U.S. mission in the Kingdom of Denmark to include the Coast Guard. In January 2021, Sands received the Department of Defense's highest civilian honor, the Medal for Distinguished Public Service, for her work to increase security in the high north while countering Russia and China. Before her time in the Trump Administration, Sands was the first woman to serve as Chairman & CEO of Vintage Capital Group in 2015. She studied biology and chemistry at Indiana University of Pennsylvania and Elizabethtown College before receiving her Doctor of Chiropractic degree from Life Chiropractic College. Following her father and grandfather's footsteps, Sands was the third generation in her family to practice chiropractic in Pennsylvania. In 1999, she married her beloved husband, Fred Sands, and had a daughter together.
David Vasquez
Policy Analyst for the Center for American Prosperity, the Center for Energy & Environment
David Vasquez is from Ripon, California, and serves as a Policy Analyst for the Center for American Prosperity, the Center for Energy & Environment at AFPI. Previously, David served in the policy debate world as a founding director of the policy debate team at Concordia-Chicago. Before this, Vasquez served as a development and policy intern through the Charles Koch Foundation's Koch Internship Program. He is also the co-founder of the Helmsmen Institute, which provides thousands of students in speech and debate with professional training and resources to hone their rhetoric, presentation, public speaking, and policy analysis skills. Vasquez graduated from Concordia University Irvine, majoring in history and political thought, with a minor in law and politics. He was senior captain of the debate team, finishing his senior year as the highest-ranked collegiate debater in the United States among several hundreds of competitors. In his free time, he enjoys ultimate frisbee, rooting for the Oakland Athletics, and researching the impact of tax evasion laws on American expatriates.
"Our span of life is brief, but is long enough for us to live well and honestly."
Marcus Tullius Cicero