The economic success of the nation is driven by the individual will and genius of free men and women aspiring to achieve their dreams and further prosperity for themselves and their families. Our nation declared its independence in part because of a system of commerce that did not put the prosperity of Americans first and hindered, rather than embraced, the individual aspirations of Americans. In establishing a new Nation, our Founding Fathers sought to unleash the power of entrepreneurship and free enterprise so that Americans "who are possessed of the spirit of Commerce—who see and who will pursue their advantages, may achieve almost anything".
The America First Policy Institute's Center for American Prosperity is dedicated to advancing public policy that puts the prosperity of American citizens first, to restoring and preserving the American free enterprise system, to defending American workers and their families, to promoting growth that lifts up forgotten communities, and to celebrating the innovative spirit of the American people. It is through this spirit—when Americans are free to pursue and achieve their dreams—that American prosperity reached unprecedented heights and will continue to achieve more than ever thought possible. The Center for American Prosperity will endeavor to research and educate the American public on policy grounded in the fundamental ideal that free Americans prosper.
POLICY PRIORITIES
Tax Relief for America's Middle Class
Incentivize Job Creation for American Workers
Promote Wage Growth
Incentivize Onshoring
Ensure Access to Capital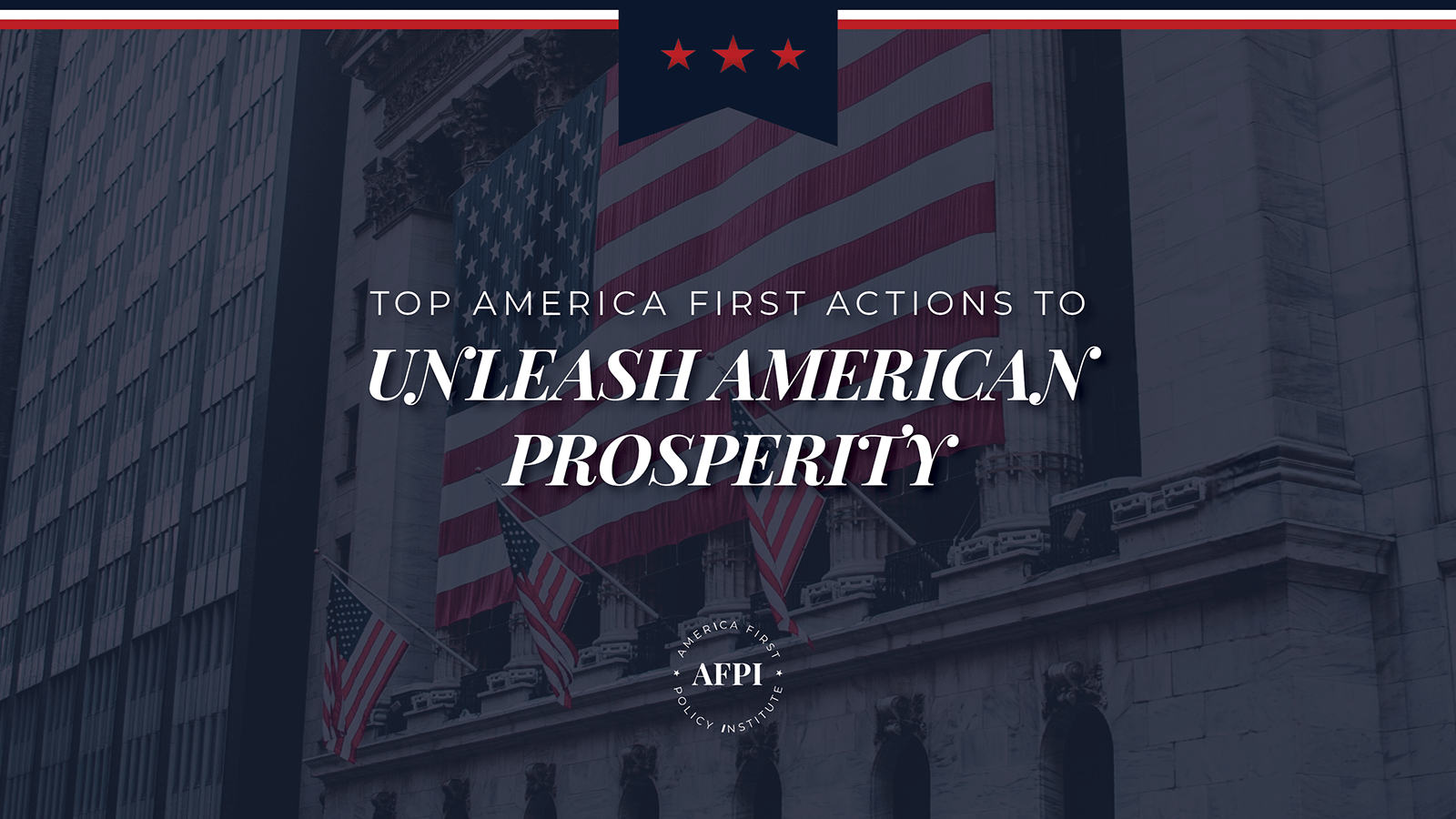 The Honorable Larry Kudlow
Vice Chair of the Board and Chair, Center for American Prosperity
Larry Kudlow serves as Vice Chair of the Board for AFPI and as Chair of the Center for American Prosperity. He is also the host of "Kudlow" on Fox Business and "The Larry Kudlow Show" on WABC Talk Radio. He previously served as Director of the National Economic Council under President Donald Trump, where he led the domestic and global economic policy agendas. Throughout the years, Kudlow has hosted several popular television shows with an economic focus, had a successful career on Wall Street, and worked as an associate director in the Office of Management and Budget during the Reagan Administration. He began his career at the Federal Reserve Bank of New York as a staff economist. Kudlow describes himself as a Reagan supply-sider and is a staunch advocate for free markets, tax cuts, and deregulation.
"Free market capitalism is the best path to prosperity."
LARRY KUDLOW
Beatrice Brooke
Senior Policy Analyst, Center for American Prosperity and Center for Energy & Environment
Beatrice Brooke was born in Atlanta, Georgia, and serves as the Senior Policy Analyst in the Center for American Prosperity and the Center for Energy & Environment for AFPI. Brooke recently finished her service at the United States Department of Commerce, where she served as a Senior Advisor to the Deputy Secretary on policy matters including international trade, economic development, weather operations, and commercial space enterprises. In this role, she supported the Deputy Secretary, who served as the Department's Chief Operating Officer of a budget of more than $15.2 billion, 12 operating units, and over 47,000 employees. She is a graduate of Northwestern University, where she majored in Political Science and International Studies and also studied Spanish and Italian. Brooke grew up in Washington, D.C., and she enjoys reading about history, traveling, and studying languages—and has recently begun learning Korean.
"The price of liberty is eternal vigilance."
Thomas Jefferson
James Carter
Senior Fellow, Center for American Prosperity
Jim Carter is from Kansas City, Missouri, and serves as a Senior Fellow in the Center for American Prosperity at AFPI. Previously, Jim was Vice President of Government Affairs at Emerson, a diversified global manufacturing and technology company. Mr. Carter also served in the Bush Administration, as a senior staff member on the Senate Budget Committee, and as an advisor to several U.S. senators. Jim has served in senior roles at the Department of Labor, Department of Treasury, and National Economic Council at the White House. He also received the Secretary of the Treasury's "Exceptional Service Award." Mr. Carter has written more than 140 articles on fiscal policy, economics, and other public policy matters for leading publications, including The Wall Street Journal, Forbes, Investor's Business Daily, Politico, The Hill, and USA Today. He is a frequent speaker and has taught at The George Washington University and at Johns Hopkins University. Carter also serves on the board of the National Capital Chapter of the Alzheimer's Association. He holds degrees from George Mason University and Truman State University. He appeared in season three of House of Cards, playing a U.S. Senator.
"The first lesson of economics is scarcity: There is never enough of anything to satisfy all those who want it. The first lesson of politics is to disregard the first lesson of economics."
Thomas Sowell
Cale Clingenpeel
Visiting Fellow
Cale Clingenpeel is from Anchorage, Alaska and serves as a Visiting Fellow at AFPI. Clingenpeel most recently served as the Senior Advisor to the Chairman of the White House Council of Economic Advisers (CEA). Clingenpeel started at the CEA in 2018 and worked predominately on tax, energy, labor, international & domestic macroeconomic policy, and the economic response to the pandemic. Previously Clingenpeel helped lead an Alaska-based nonprofit organization focused on U.S. Arctic policy, worked on various Alaska political campaigns, conducted field research in East Africa for a development project, and even spent a summer training 70 Iditarod racing sled dogs on a remote Alaska glacier. Clingenpeel holds an M.A. in International Economics and Finance from Johns Hopkins University School of Advanced International Studies and a B.S. in International Economics from Georgetown University's Walsh School of Foreign Service. Clingenpeel is an Alaskan through and through and is most at home among the mountains whether he's skiing, running, fishing, camping, or mushing.
"If we worked on the assumption that what is accepted as true really is true, then there would be little hope for advance."
Orville Wright
The Honorable Michael Faulkender
Chief Economist & Senior Advisor, Center for American Prosperity
Michael Faulkender is the Dean's Professor of Finance at the University of Maryland's Smith School of Business, an institution where he also served from 2008 to 2017, and is AFPI's Chief Economist and Senior Advisor for the Center for American Prosperity. Dr. Faulkender previously served as Assistant Secretary for Economic Policy at the U.S. Department of the Treasury, advising the Secretary on domestic and international economic issues. During the COVID-19 pandemic, he assisted in negotiating the CARES Act and was the senior Treasury official who led the implementation of the Paycheck Protection Program (PPP). He was awarded the Alexander Hamilton Award for Distinguished Leadership, the highest service award granted at the Department of the Treasury. His research areas include public policy, corporate capital structure, risk management, corporate liquidity, and executive compensation. His work has been published in top academic finance journals and has been cited in the Wall Street Journal, Washington Post, and The New York Times, among other publications. Professor Faulkender teaches classes in the MBA and EMBA programs at the Smith School and previously served on faculty at the Wharton School at the University of Pennsylvania, the Kellogg School at Northwestern University, and the Olin School at Washington University in St. Louis.
Aaron Hedlund, Ph.D.
Director of Research; Senior Advisor, Center for America Prosperity
Aaron Hedlund is from Wheaton, Illinois, and serves as the Director of Research and Senior Advisor, Center for American Prosperity at AFPI. Most recently, he served as the Chief Domestic Economist and Senior Adviser at the White House Council of Economic Advisers. In this capacity, Hedlund helped design and execute emergency economic measures during the COVID-19 pandemic, helping coordinate the nationwide health IT data modernization that supported the Operation Warp Speed vaccine program, and analyzing the impact of core domestic priorities ranging from school choice to the Opportunity Zones program for economically distressed areas. Hedlund received his Ph.D. in economics from the University of Pennsylvania and his undergraduate degree in economics and mathematics from Duke University. Hedlund, his wife, and their four kids live in Columbia, Missouri, where he is also an associate professor of economics at the University of Missouri. He and his family enjoy hiking, tennis, watching movies, and exploring the vast expanse that is America. His not-so-secret dream would be to attend a tennis match featuring Roger Federer.
"An inconvenience is only an adventure wrongly considered; an adventure is an inconvenience rightly considered."
G.K. Chesterton
Luke Lindberg
Senior Fellow, Center for American Prosperity
Luke J. Lindberg is from Harrisburg, South Dakota, and serves as a Senior Fellow in the Center for American Prosperity at AFPI. Previously, he served as the Chief of Staff and Chief Strategy Officer at the Export-Import Bank during the Trump Administration. As a national leader in trade and export policy, Lindberg sits on the Board of Directors for the National Association of District Export Councils and advises several companies on securing America's supply of critical minerals and rare earths. He works for Sanford Health, the premier rural health system in America. Lindberg has a Master of Business Administration and a Master of Public Policy, both from the University of Maryland. He and his wife, Brittany Thune Lindberg, have two great kids, John Mark and Lucy.
"America has no permanent friends or enemies, only interests."
Henry Kissinger
James P. Pinkerton
Senior Fellow, Center for American Prosperity
Jim Pinkerton was born in Cambridge, Massachusetts, and currently serves as a Senior Fellow in the Center for American Prosperity at AFPI. Pinkerton worked in the Domestic Policy Office at the White House under presidents Ronald Reagan and George H.W. Bush and in their 1980, 1984, 1988, and 1992 presidential campaigns. In 2008, he served as a senior adviser to Mike Huckabee's presidential campaign. From 1996–2016, he was a Contributor to the Fox News Channel. From 1993–2007, he wrote a twice-a-week column for Newsday, covering everything from presidential elections to the Iraq War. Pinkerton writes regularly for Breitbart, The American Conservative, and The Daily Caller and has written for publications ranging from The Wall Street Journal, The New York Times, The Washington Post, The Financial Times, The Los Angeles Times, The National Interest, USA Today, National Review, The New Republic, Foreign Affairs, Fortune, The Huffington Post, US News & World Report, The Washington Examiner, The Guardian, and The Jerusalem Post. He is married to the former Elizabeth Dial and is a graduate of Stanford University.
"Let all the ends thou aimst at be thy country's, thy God's and Truth's. Be Noble and the Nobleness that lies in other men sleeping but never dead will rise in majesty to meet thine own."
Shakespeare
Jon Sanders
Senior Fellow, Center for American Prosperity
Jon Sanders hails from Raleigh, North Carolina, and serves as a Senior Fellow in the Center for American Prosperity at AFPI. He also is the director of the Center for Food, Power, and Life (CFPL) at the John Locke Foundation, where he works to protect and expand freedom in the vital areas of agriculture, energy, and the environment. Sanders is a contributing columnist to the American Institute for Economic Research and the Senior Fellow of Regulations and the New Economy for the Beacon Center of Tennessee. Before heading CFPL, Sanders was the director of regulatory studies at Locke, where he also served as research editor. He holds a master's degree in economics with a minor in statistics and a Bachelor of Arts degree in English literature and language from North Carolina State University, a left brain/right brain confluence that sometimes causes him to drop favorite quotes from literature amid a dry policy discussion. He has taught economics as an adjunct instructor for the Poole College of Management at North Carolina State University and the Tillman School of Business at Mount Olive University. Like the late, great economic optimist Julian Simon, Sanders believes that people are the ultimate resource. He lives in Raleigh with his beautiful, out-of-his-league-but-don't-tell-her wife, his two children, a dog who doesn't claim him, and a cat who does.
"The greatest beneficiaries of capitalism are those at the bottom of the income ladder."
Gary Becker
David Vasquez
Policy Analyst for the Center for American Prosperity, the Center for Energy & Environment
David Vasquez is from Ripon, California, and serves as a Policy Analyst for the Center for American Prosperity, the Center for Energy & Environment at AFPI. Previously, David served in the policy debate world as a founding director of the policy debate team at Concordia-Chicago. Before this, Vasquez served as a development and policy intern through the Charles Koch Foundation's Koch Internship Program. He is also the co-founder of the Helmsmen Institute, which provides thousands of students in speech and debate with professional training and resources to hone their rhetoric, presentation, public speaking, and policy analysis skills. Vasquez graduated from Concordia University Irvine, majoring in history and political thought, with a minor in law and politics. He was senior captain of the debate team, finishing his senior year as the highest-ranked collegiate debater in the United States among several hundreds of competitors. In his free time, he enjoys ultimate frisbee, rooting for the Oakland Athletics, and researching the impact of tax evasion laws on American expatriates.
"Our span of life is brief, but is long enough for us to live well and honestly."
Marcus Tullius Cicero